"RIGAAPARTMENT GERTRUDA Apartments & Restaurant" building is located in the centre of the City on the historic Gertrudes Street. The street has a long history where even the Swedish paving stones are touched with of a century of history and perhaps still remembers the sound of horse-drawn carriages clattering down the street.
The street got its name from the church of St. Gertrude in the late 19th century. The church has a beautiful and delicate silhouette of red bricks and sits at the beginning of the street, perfectly visible from the windows and balconies of our hotel.
Gertrudes Street has a rich diversity of buildings and represents over 120 years of architectural history. You can see a variation of building facades everywhere. Large stone houses built in the Art Deco and Eclectic styles compare with the one or two-storey wooden buildings built in the 19th century. The homeowners of the street in those days competed in designing and building the most interesting and unique properties, which gave rise to such a rich history in the street.
Our apartment hotel building was built in 1909 and is an architectural monument of the City. The apartments have been rented in different years by outstanding representatives of the Riga intellectual community and the city's guests, journalists, writers, lawyers and historians. It is a house of joys and sorrows during the course of the century. This house has survived two wars and many governmental changes. There were aristocracy rooms, as well as communal apartments left over from Soviet times.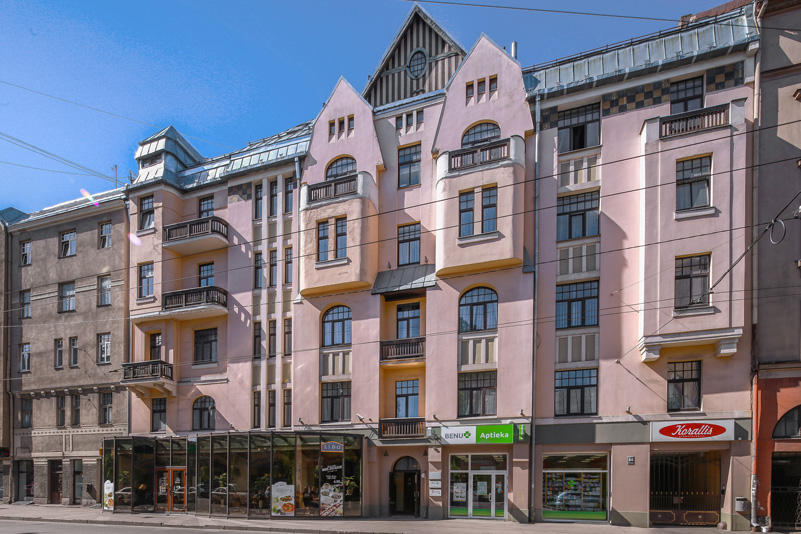 Many of our guests tell stories about the time when their grandparents lived in this street. Some of them have lived in this very house which they visit now. It's just like touching the historical origins of their families and the destinies of their loved ones.
The "RIGAAPARTMENT GERTRUDA Apartments & Restaurant" building functions as a modern and flexible aparthotel started since its renovation in 2008. There is a comprehensive range of comfortable accommodation to suit all your needs and requirements. Different type apartments – studio, one-bedroom, two-bedrooms and three-bedrooms. And a few rooms with private or shared facilities for those who want their own space, but are happy to use common areas together.
Each space is fully equipped with everything necessary for self-contained, convenient and self-sufficient accommodation. We have everything you need for a comfortable stay: comfortable beds, fully equipped kitchens, cooking utensils and table wear, washing and ironing facilities, free TV and WiFi. Weekly cleaning included into rent price. Our caring staff are on hand for every moment you need help and support. Each apartment or room is fully cleaned and prepared for each guest before they arrive.
In all the apartments there is a fine fusion of old and new. Most of the original, historic features have been preserved. The apartments and rooms are spacious as originally designed. The size of the apartments and rooms allows for a convenient and easy living experience. The ceiling height of over three meters, large mirrors in the entrance of the building and solid wood stair trims all contribute to the atmosphere and spirit of history yet the modern comfort and functionality expected in today's apartment living is also provided.
Staying at RIGAAPARTMENT GERTRUDA APARTMENTS & RESTAURANT
Gertrudes Street abounds in bureaus, law firms and offices, mixed with modern cafes and pizzerias, bakeries and small cosy restaurants to suit all tastes and culinary preferences. Multiple small private shops and workshops are combined with large trading shops. The street is full of life from morning until late at night. This street is loved not only by the citizens of Riga, but also by many tourists. Visitors to the City like to sit over a cup of coffee in the pause between shopping trips, or relax after a busy day over a pint of beer in pubs, where prices are much lower than in the Old Town. If you want to breathe a bit of history and feel the spirit of the City, be sure to come to us!
All your questions and any issues will always be dealt with promptly. We are proud that our friendly staff is always on hand to help and support you in a friendly positive way. On the ground floor there is a cafe-bistro LIDO, where every day a buffet breakfast is served from 8 am. Tasty Latvian dishes are served all day until 11pm. You will enjoy it's friendly and informal atmosphere and the prices will make you smile.
"RIGAAPARTMENT GERTRUDA Apartments & Restaurant" is your key to opening the delights of our beautiful city. Your new experience, special events and fond memories are just waiting for you.
Everything we do, we do for you!
BREAKFAST
The buffet breakfast is served every morning in the LIDO GERTRUDE restaurant at 54 Gertrudes street ground floor. Only for RIGAAPARTMENT GERTRUDA guests
special price 4.45 EUR
per person.
Check-in at RIGAAPARTMENT GERTRUDA
Our standard check-in time is from 3PM by local time. Apartment keys will be available for our guests at our 24/7 reception at RIGAAPARTMENT SONADA HOTEL at 129 Gertrudes street.
Check-out

at RIGAAPARTMENT GERTRUDA

Check-outs are

till 11 AM

. All times are local. At check-out time please

place your key set into "Express checkout" box

placed on the RIGAAPARTMENT GERTRUDA information board at the ground floor.

Departure after 11 AM

is automatically considered as rent extension.